Looking to work from home, or already working from home and looking to freshen up your home office?
Sunrooms are great for home offices, and one of the best options available. Traditional rooms can make for very boring and dull offices that can lead to frustration and lack of productivity. So it makes sense that many people turn to the affordable and enjoyable sunroom office.
The main advantage a sunroom office lends is its unique glass or acrylic wall window system. Through this wall window system you get natural lighting, which is better on your eyes and overall health, and a view of the outdoors. To maximize natural light, you can get a light-colored sunroom, and even add mirrors. For less light, you can choose a darker color or use blinds or drapes to control the light. Either way, a sunroom will brighten up your workspace.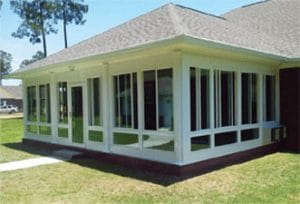 Custom designing is a good choice when adding a sunroom to use as an office space. This way you can personalize your workspace to fit your workstyle, from start to finish. You get to choose the color, which is naturally a huge factor in the atmosphere of your workspace, as well as other options like window material, size of the room, and the placement of doors. Aim to make it the most uplifting and energizing room you can, where you will love to work.
Choose a reliable company to install your sunroom addition. Ensure that the installation will meet up to industry and safety standards, and that the company will work with you throughout to provide the perfect customization experience.
We're Elite Gutters and Sunrooms, and we make it our mission to deliver the best sunrooms around Cookeville, Tennessee, using the best materials on the market. We offer free estimates for sunroom additions, as well as screen enclosures and seamless gutter systems. Our full list of services includes sunrooms (of course!), screen enclosures, patio covers, seamless gutters, gutter guards, and awnings. Call our Better Business Bureau accredited business now if you have any questions, or to request an estimate!