A gutter guard is a gutter protection system that goes over your gutters to keep debris out. Although these products might be able to reduce the number of leaves and chunks of debris that get into your gutters, they're not perfect. Keeping your gutters clean is an important part of home maintenance. Clogged gutters will end in a damaged roof, windows, doors, foundations, and landscaping. Most professionals recommend cleaning out your gutters by hand rather than installing gutter screens or covers. You can find gutter guards at almost any hardware store like Lowes, Home Depot, Walmart, or ACE. Before you buy tons of gutter guards, it's essential to understand the pros and cons that come along with these materials. This will help you make sure you have the best solution for your home.
Below are some of the advantages and disadvantages you should expect with gutter guards:
Pros: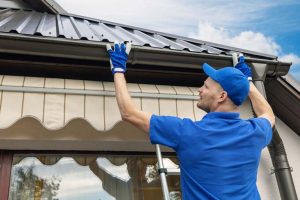 They can be installed onto your current gutters.
Stops leaves, sticks, and other debris from clogging your gutters and spouts.
They keep birds and animals from building nests in your gutters.
Prevents bugs and birds from being in collected water and building up grime.
Helps keep water from leaking into your home through overflow problems.
Eliminates regular gutter maintenance.
Extends the life of gutters.
Cons:
May not keep out pine needles, seeds, and other small debris.
May add to roof icing issues (Heated gutter guards are able to be installed, which stops icicles, snow, and ice dams.)
Gutter Guards are not 100% maintenance-free – they will still need cleaning every so often.
Gutter Guards can bend and lose some of their effectiveness, so try not to lean things on them while cleaning and putting up lights or decorations.
If not cleaned like should be, the added weight on your gutter guards may make the gutters sag.
If even a small amount of leaves penetrate your guards and begin to decompose in your gutters, you could face moss and algae growth.